Top Amenities of a Luxury Ski Vacation
Traveling to a mountain destination for a ski vacation brings a whole new level of luxury to travelers with the standard of hospitality provided in mountain destinations. Visiting a mountain destination, especially during the winter, can be challenging for guests. This is why when visiting a mountain destination you will be greeted with a whole new set of luxury amenities among a few classic favorites. After all, vacations are meant to be relaxing and fun, so go ahead and indulge in these luxurious amenities.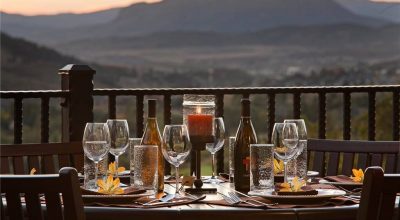 Life in the mountains is more than just skiing and snowboarding. It is also about gathering together at the end of a day to rejoice in the experiences the day has brought us. That is why you will find that many skiers and riders flock to aprés after a day outside to warm up with a well-deserved cocktail and an appetizer. While many bars and restaurants offer aprés specials, some hotels will offer exclusive complimentary aprés services to their guests to enhance their stay. For example, your hotel bar may be serving wine, beer, and hot chocolate to guests accompanied by warm chocolate chip cookies. 
In the theme of spending time together, it is likely that your group will want to explore the local restaurants and nightlife. Property managers are aware that guests may not be comfortable driving in winter conditions and would prefer to imbibe and travel responsibly. For this reason, some property management companies offer complimentary private on-call shuttle services for their guests. This way, guests are not constrained to the free local bus schedules and can travel safely downtown to restaurants and bars with door to door service. Guests can enjoy their night out without worrying about parking, driving in winter conditions, or choosing a designated driver. 
If your party is more inclined to stay in for an evening and are tasked with trying to shop for and cook a meal in an unfamiliar kitchen, some luxury accommodations have partnered with private chefs to help accommodate. With the help of a private chef, your group can spend the day adventuring in the mountains without worrying about grocery shopping, cooking, or cleaning. Having a private chef cook for you in your condo allows your family to truly relax in the evenings rather than preparing to spend a night out at a restaurant, but while still eating restaurant-quality foods.
First and foremost, vacations are about unwinding and leaving the stress from home behind. Ski destinations understand the importance of this and have implemented plenty of ways to relax. Many accommodations are adorned with hot tubs, slopeside year-round heated pools, fire pits, and spas. You will find that spas in the mountains often offer specialized services such as ski recovery massages, oxygen infusions to help cope with altitude, or CBD oil massages. 
In some especially luxurious mountain accommodations you may find yourself with a private hot tub with a mountain view as well as a private fire pit for you and your family to gather around. Some properties may be able to coordinate in-home massage services to help deepen your relaxation as well. 

If you are looking for more of a workout than your adventures in the mountains provides (or perhaps you have decided to opt out of these activities), many high end accommodations have fitness centers with top of the line equipment at your disposal. Some accommodations may even offer specialized group fitness classes like yoga or pilates in their fitness centers for guests. For those of you looking for more intimate wellness practices, you may even be able to schedule private instruction in the comfort of your own accommodations.
Along with skiing and snowboarding comes specialized amenities only found at ski destinations. These amenities are designed to relieve you of the less enjoyable aspects of skiing and snowboarding, like heaving your equipment to your accommodations or drying your boots after a day on the slopes. 
Many luxury accommodations will have ski lockers for their guests. This enables guests to leave their equipment in a designated and secure space when not in use. Luxury ski lockers will have individual boot drying and warming units within the locker to ensure that your boots are warm and ready to go the next day. 
Another equipment service that can be found at luxury accommodations is ski valet. This service allows you to drop your skis off with hotel or equipment rental shop personnel to take care of for the evening. Some ski valets will also offer overnight tuning services to ensure your equipment is performing at its best. This might include a fresh coat of wax or sharpening the edges on your skis. 
Finally, one of the ultimate luxuries of a ski vacation is being located directly on the slopes in a ski in ski out accommodation. This alleviates the need to get on a shuttle or in a car to get to the slopes. Additionally, it means that if you want to take a break during the day or eat lunch at home you have the convenience to do so. Staying directly on the slopes might also allow parents and grandparents to watch their kids make their first turns in ski school from the comfort of the living room. 
Choosing your Luxury Accommodations
When choosing accommodations for your luxury mountain vacation it is important to decide which amenities will be important to you during your trip and which amenities you will use the most. Of course, there are properties that provide all of the listed amenities. It is also comforting to know that while some properties may not include all amenities, there are ways to add your desired amenities to your vacation. For example, you can rent your equipment from a slopeside rental shop and that may include ski valet and overnight tuning if your accommodations do not provide this service. 
Choosing the perfect place to stay during your mountain vacation can be challenging, especially if you are hoping to check all of your boxes. We recommend working with a Vacation Consultant to discuss your needs and expectations when booking a luxury ski vacation to ensure that your experience is outstanding.